Illuminate 24K Rose Gold Collagen Mask
Illuminate 24K Rose Gold Collagen Mask
Regular price
$2000
$20.00
In stock, ready to ship

Inventory on the way
Ammuri Anti Aging Illuminate
ILLUMINATE 24K ROSE GOLD COLLAGEN MASK.
LUXURY COLLAGEN TREATMENT.
ILLUMINATE / SMOOTH/ PLUMP / FIRM.
Size: 250g / 8.8 oz.
 Description
This illuminating 24K Rose Gold Sparkling Gel Wash Off Mask is designed to boost the skin's Collagen, and skin elasticity and to deeply hydrate, brighten skin, reduce wrinkles, and restore it to a more youthful and satin-soft appearance. 
The formula has been infused with the most effective ingredients to leave your skin looking and feeling great, with an ablemish-free luminous glow and is mild enough to indulge in this pleasure as often as you like.  
This mask is a perfect Pre- Event mask as it leaves your skin glowing with a flawless complexion.
Regular use of this product is recommended to enhance results over time.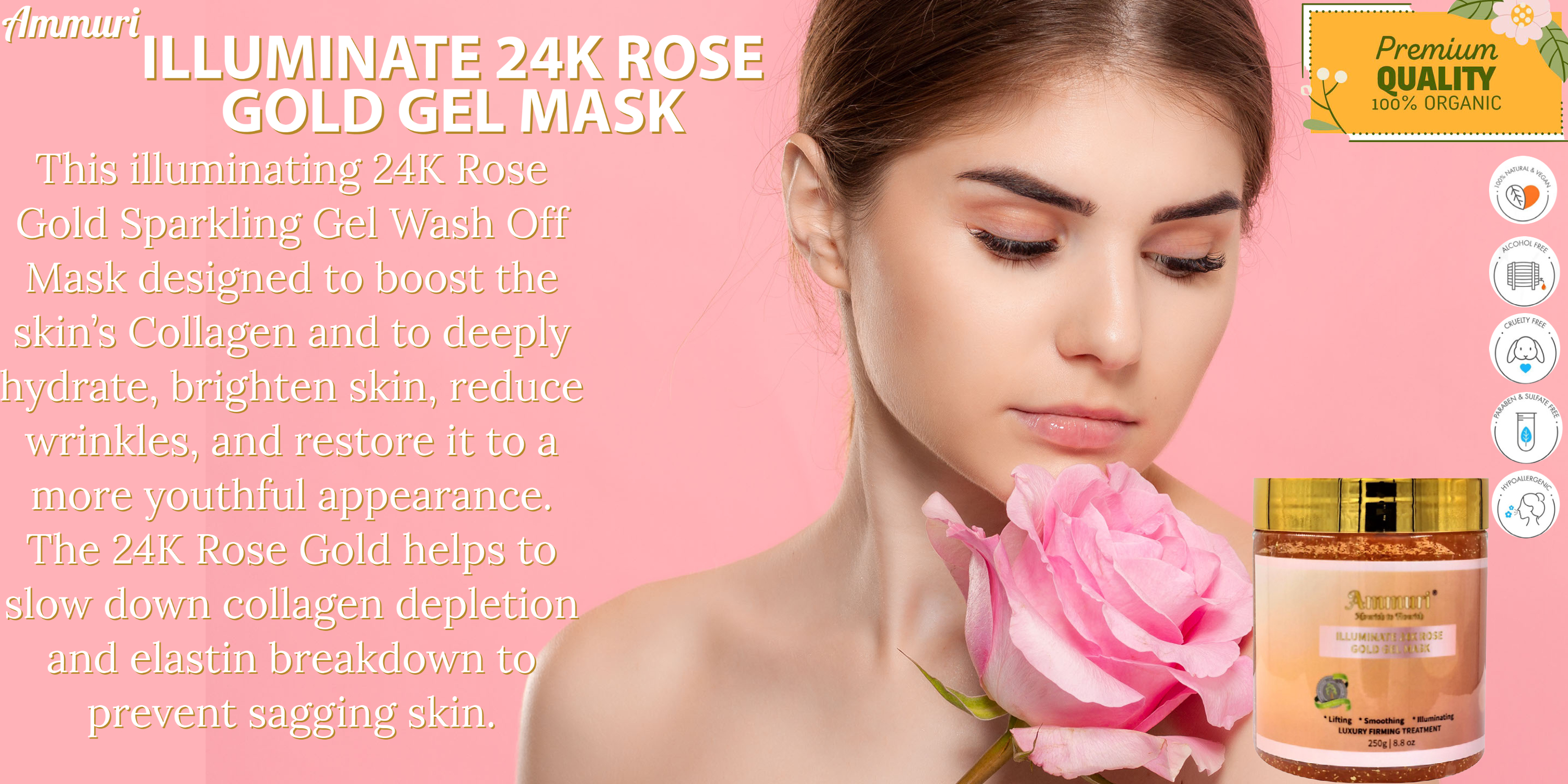 Benefits
A mineral extract that brightens, evens skin tone, plumper skin, and improves circulation.
A botanical extract that is high in antioxidants helps to protect the skin against external aggressors. Rose also soothes irritated skin and reinstates the moisture barrier to prevent skin dehydration, help to cleanse skin and prevent blemishes.
Vitamin C: 
This Vitamin promotes Collagen production with the potential to thicken the dermis, diminish fine lines, and is essential for firm youthful skin. In addition, it is a very powerful antioxidant and protects skin cells from damaging free radicals caused by UV exposure and fades hyperpigmentation. 
Vitamin B5: 
Prevents water loss from your skin and helps to retain moisture. This prevents dry skin, flakiness, and itchiness and maintains the softness and elasticity of your skin. It also helps to maintain the skin barrier function preventing from inflammation and skin redness.
Collagen: 
A powerful tool for your skin's health. Offers the skin to become vibrant and healthy and it is important to add collagen early in your skin regimen as it combats wrinkles, improves elasticity and helps in healing issues like eczema and acne as a major component of your skin as we age the production levels deplete but this mask bolsters your collagen levels and ability to reproduce more.
 Hyaluronic Acid: 
This mega booster of hydration targets many skin issues such as dry itchy skin, eczema, fine lines, and wrinkles. It improves skins texture firmness, hydration levels and leaves skin with a dewy glow.
Aloe Vera: 

This natural plant extract can fight Acne, prevent dark spots, and even slow down the signs of ageing. It is also great for hydrating the skin as it helps lock in the moisture and acts like a glue that makes the top layers of the skin cells stick together ultimately smoothing, softening and all-natural skin.
The Ingredients used are perfectly infused to target signs of ageing, not just a short-lived outcome but also offer long-term benefits.

Ingredients
Aqua, Gold, Collagen, Sodium Hyaluronate, Vitamin C, Vitamin B5, Aloe Extract, Coconut Oil, Propylene Glycol, Glycerin, Glyceryl Polymethacrylate, PVM/MA Copolymer, Carbomer, Triethanolamine, Diazolidinyl Urea, Ethylhexyl Glycerin.
Directions

Cleanse and dry face and allow to dry.
Use an application brush and apply evenly to the face and neck.
Allow sitting for 10-15 minutes.
Rinse off and pat dry.
Recommended use 2-3 times a week or as a pre-event treatment.
Recommended use 2-3 times a week or as a pre-event treatment.

For optimal longer-lasting results try Ammuri Pure Beauty Vitamin C Serum in conjunction with this product.

Cautions:

For external use only. Avoid contact with eyes. keep out of reach of children. Store in a dry and cool place, and avoid direct sun exposure.
Remember to: We make every effort to ensure the information on this page is accurate at the time of the last edit and we constantly review and develop our products to meet our customer's needs.

Consumers are advised to check labelling, warnings and directions provided with each product prior to use, especially if you have allergies or intolerances.

At Ammuri, we are committed to providing high-quality skincare products that meet your needs and expectations. We stand behind our products and want you to be completely satisfied with your purchase. That's why we offer a hassle-free 30-Day Return Policy.
If for any reason you are not satisfied with your purchase, please contact us within 30 days of receiving your order, and we will be happy to assist you with a return or exchange. We want to ensure that you are able to use our products fully and see the results for yourself.
If you have any questions or concerns regarding our return policy, please don't hesitate to contact our customer service team. We're always here to help ensure that your Ammuri experience is nothing short of exceptional.
At Ammuri, we understand the importance of receiving your skincare products in a timely and efficient manner. That's why we offer fast and reliable shipping to all of our customers. For orders placed within the UK, we offer same-day dispatch, so you can expect to receive your order within 2 to 4 working days.
For international orders, we offer worldwide shipping with a delivery time of 10 to 16 working days. We strive to dispatch all orders on the same day, as long as the order is placed before 5 pm UK time.
Rest assured that your order will be carefully packaged and shipped using the most efficient and secure methods available. We take great care to ensure that your products arrive in pristine condition, ready for you to enjoy.
If you have any questions or concerns regarding shipping, please don't hesitate to reach out to our customer service team. We're always here to help and ensure that your Ammuri experience is nothing short of exceptional.