Deep Exfoliating Peeling Foot Mask
Deep Exfoliating Peeling Foot Mask
Regular price
$2000
$20.00
Sale price
$900
$9.00
Save 55%
In stock, ready to ship

Inventory on the way
Deep Exfoliating Peeling Foot Mask Socks
Deep Exfoliation Peeling Foot Mask
Natural and Botanical Ingredients
Organic Aloe Barbadensis Extract, Salicylic Acid, Citric Acid & Vitamin E.
Made in the United Kingdom
1 Pair
Best Selling Deep Exfoliation Peeling Foot Mask: The proprietary Aloe Vera and Barbadensis extract mix eliminates foot odour and increases up to 5x the softness of your feet. Our dermatologists created this exfoliating peeling mask formula without harsh or aggressive chemicals such as parabens or lanolin, widely used by other masks.
Up to 5X More Powerful and Nourishing than Regular Foot Masks. Study results show that the Aloe Vera extract regenerates skin 151% faster after peeling. Our Plant is complex effectively removes calluses and cracked feet from the deepest layers, leaving the skin softer and more nourished.
Dermatologically Tested and Confirmed for No Pain or Irritation. Our 100% Organic & Vegan Foot Peeling Mask has Vitamin E & will not cause pain or irritation if used properly and are gentle enough to use on sensitive skin.
Up to 10x More Effective Deep Cleanse for Smoother Skin. Tired of masks that leave your feet dry and raw? The proprietary and powerful plant is complex in our foot mask removes impurities at a deeper level and leaves your skin feeling luxuriously smooth. These socks are designed to fit most foot sizes. And if other masks have burned your feet before, you and your skin are safe with these booties!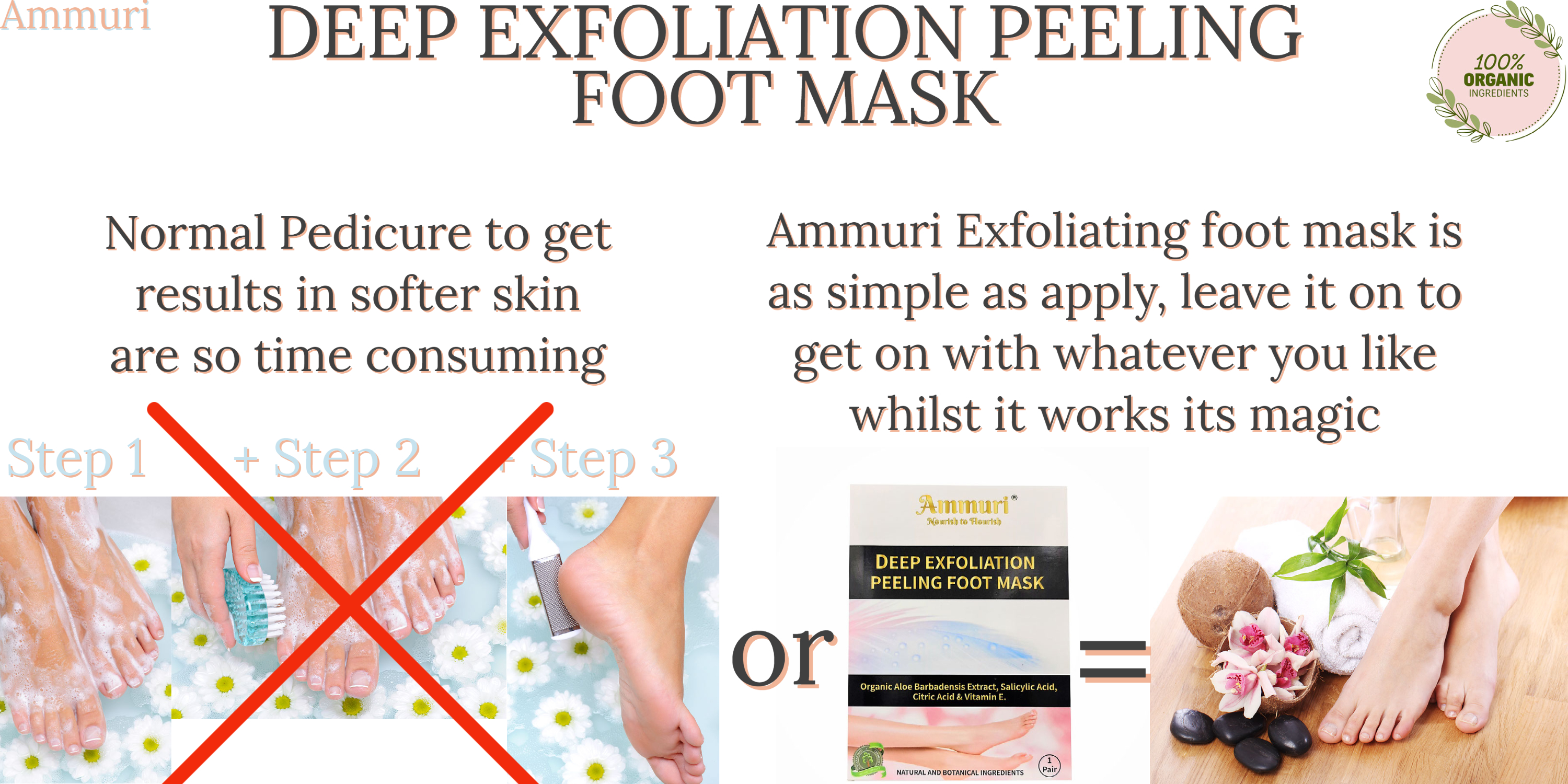 Smooth and soft feet with our mask!

The Ammuri Foot Peel Mask formula has botanicals that help optimise and accelerate the healing process.

These ingredients help the skin recover and regenerate 5X faster than other treatments.

While other brands take a long time or are harsh on your skin, Plantifique foot masks exfoliate quickly and gently!

We use a combination of all-natural salicylic and lactic acids to speed up exfoliation by up to 5X times

The natural acid doses are measured with precision to ensure they reach the deep layers of your skin while keeping the formula gentle.

Unlike masks that use low-grade oils as emulsifiers, Ammuri foot masks contain a potent blend of natural ingredients that soothe the skin and keep it healthy.

A good source of vitamins A, B, and E. Its antioxidant properties eliminate free radicals and promote healthy, supple, and youthful skin for your feet!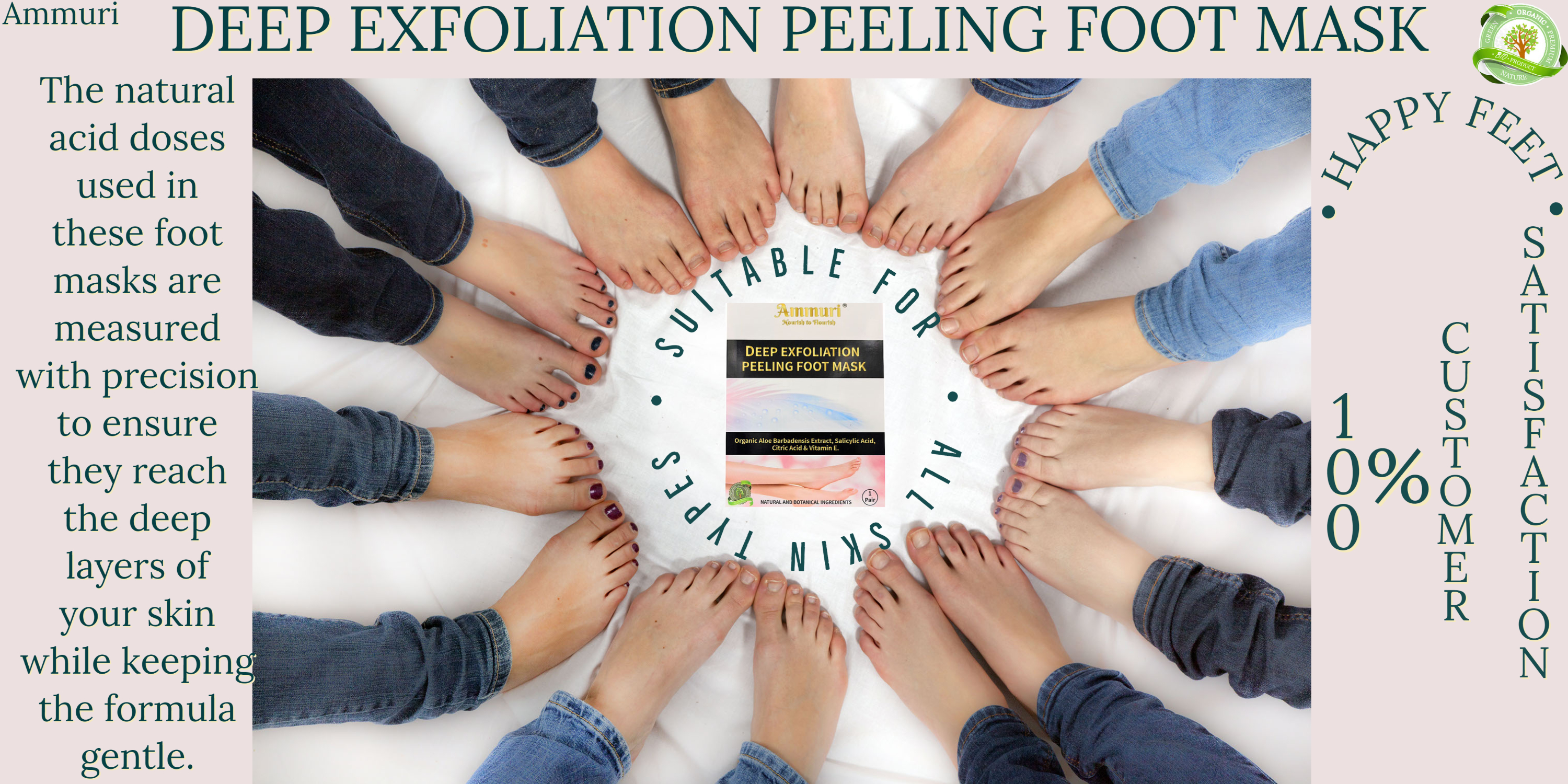 Indications: 
Ammuri Foot Peel Mask has been designed using the most effective ingredients to give you the most amazing results, leaving you with the most perfect admirable feet. This magic formula Removes all the dead skin and eliminates cracked and calloused feet, without scrubbing. So now you have no need to pay for those expensive pedicures just relax and attain the same results in the comfort of your own home. Perfect feet in just a few days and long-lasting results.
Ingredients:
Water, Glycerol, Butylene Glycol, Alcohol, Lactic Acid, Malic Acid, Sorbitol, Aloe Barbadensis Extract, Citric Acid, Papain, Salicylic Acid and Jojoba Oil.

Directions:

Thoroughly cleanse feet with soap and allow them to dry.
Open and cut along the line and slip your foot into the packet and seal it with the sticker
Repeat with the second foot
Leave on for an hour to an hour and a half and remove.
Gently Rinse off with lukewarm water.
Expect your skin to become dry until the skin starts to peel
Soak your feet daily in lukewarm water for 10-20 minutes to help the shedding process.
Your dead skin cells should start to shed after 4-7 days (to avoid irritation do not pick at the skin just allow the dead skin to shed naturally).
This treatment can be repeated to enhance results further or for very thick skin after 2 weeks.

Not suitable for use during pregnancy or for breastfeeding women.

Avoid using on skin with psoriasis, eczema, any other skin condition, open wounds, sunburned, inflamed or irritated skin. Avoid eyes if contact occurs, thoroughly rinse with water.

This product has only been designed for use on feet but if irritation occurs stop use and rinse off immediately.
Keep away from children.
At Ammuri, we are committed to providing high-quality skincare products that meet your needs and expectations. We stand behind our products and want you to be completely satisfied with your purchase. That's why we offer a hassle-free 30-Day Return Policy.
If for any reason you are not satisfied with your purchase, please contact us within 30 days of receiving your order, and we will be happy to assist you with a return or exchange. We want to ensure that you are able to use our products fully and see the results for yourself.
If you have any questions or concerns regarding our return policy, please don't hesitate to contact our customer service team. We're always here to help ensure that your Ammuri experience is nothing short of exceptional.
At Ammuri, we understand the importance of receiving your skincare products in a timely and efficient manner. That's why we offer fast and reliable shipping to all of our customers. For orders placed within the UK, we offer same-day dispatch, so you can expect to receive your order within 2 to 4 working days.
For international orders, we offer worldwide shipping with a delivery time of 10 to 16 working days. We strive to dispatch all orders on the same day, as long as the order is placed before 5 pm UK time.
Rest assured that your order will be carefully packaged and shipped using the most efficient and secure methods available. We take great care to ensure that your products arrive in pristine condition, ready for you to enjoy.
If you have any questions or concerns regarding shipping, please don't hesitate to reach out to our customer service team. We're always here to help and ensure that your Ammuri experience is nothing short of exceptional.