Hyaluronic Acid Face Mask
Hyaluronic Acid Face Mask
Regular price
$1300
$13.00
Sale price
$1100
$11.00
Save 15%
In stock, ready to ship

Inventory on the way
Ammuri Hyaluronic Acid Retinol Silk Face Mask x 2 Of Skin Repair Anti-Age Wrinkle 
This acne face mask has been designed to give you the ultimate hydration implosion and leave you feeling immensely hydrated soothing all-natural skin deep, with additional benefits of fighting pre-mature-ageing.
The special formulation of key ingredients is infused with Hyaluronic Acid to boost Collagen production, replenish, rehydrate, and plump up tired dull-looking skin.

The Collagen has been encapsulated in liposomes complex to enhance the permeability which allows the acne mask essence to work deeper and more effectively and help reduce the signs of ageing, giving back blemish-free skin.
The results are outstanding as the acne mask has more than just a hydration effect like normal hyaluronic acid face masks. To further bolster this advantage Vitamin C has also been infused.



Aloe Vera and Jojoba Oil have been introduced to treat conditions such as acne and dry skin to benefit from the anti-inflammatory and moisturising properties found in these ingredients.

Only the best ingredients have been used to create this mask. All Ingredients used are 100% Natural and Organic.



The Hyaluronic Acid mask itself is made from luxurious silk to enhance your pampering experience at the same time as bringing that blast of hydration and natural glow back. While acne faces Hyaluronic Acid masks aren't a long-term remedy for acne, they can help calm inflamed skin and prevent breakouts.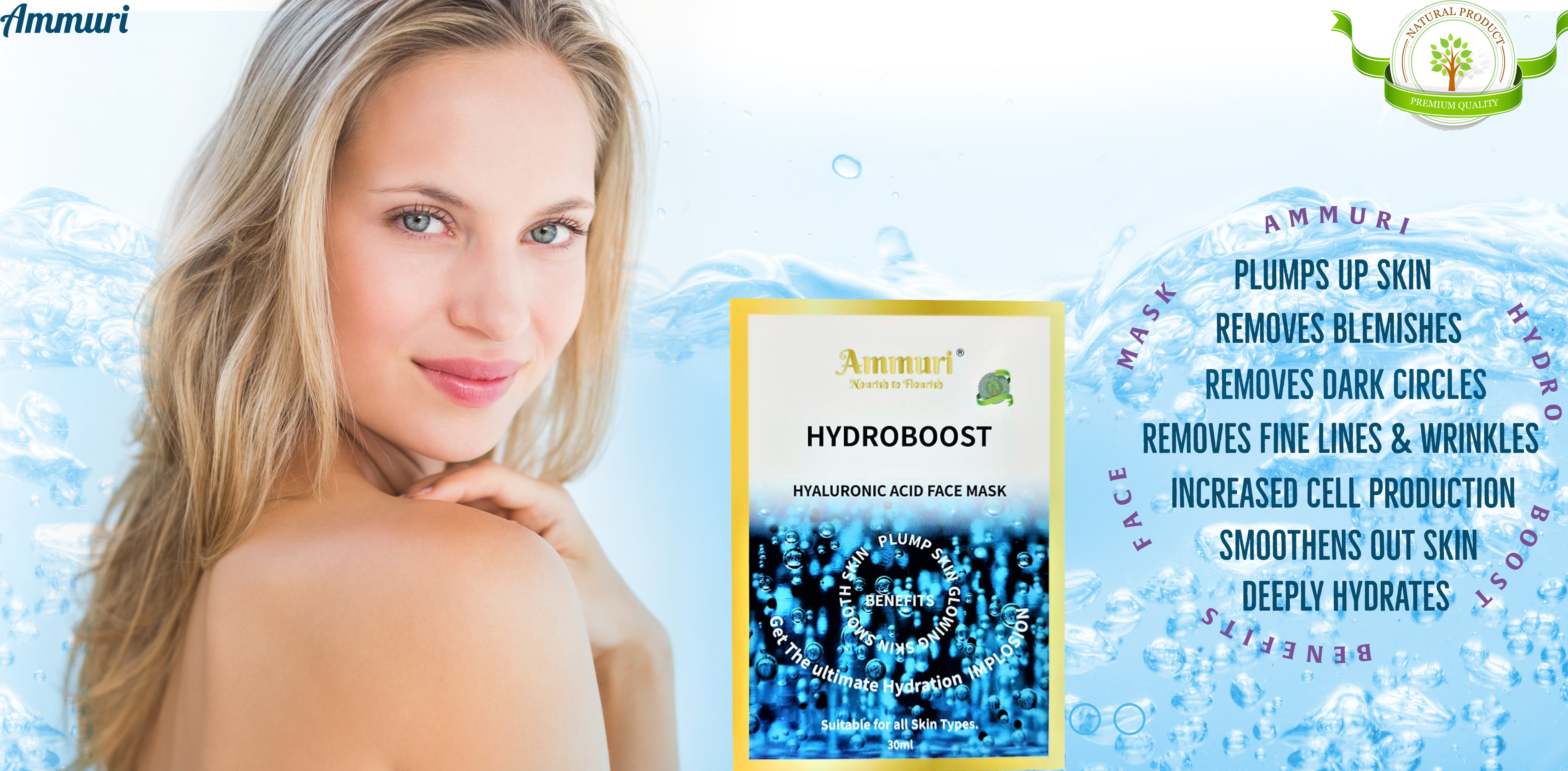 Ingredients

Aqua/water, Butylene Glycol, Dehydro Acetate, Propylene Glycol, Liposome Complex, Yeast Extract, Hydrolysed Wheat Protein, Sucrose, Sodium Benzoate, Ginkgo Biloba Extract, Musk Rose Oil, Tocopherol, Retinyl Acetate, Hyaluronic Acid, Collagen, Water, Aloe Vera Extract, Jojoba Oil, Hyaluronic Acid, Arginine, Faex Extract, Phenoxyethanol, Adenosine, Salicyloyl, Limonene, Ceratonia Siliqua Gum, Potassium Chloride, Lactobacillus Ferment, Glycine Fragrance


Directions


Cleanse and dry your skin.

Open the Hyaluronic Acid mask to unfold, apply it to the face, and dab it to settle into position.

​Keep on face for 15 -20 minutes.

​Remove mask and gently apply remaining essence to face (neck and décolleté optional).

Massage for a couple of minutes using fingertips in a circular motion for better absorption.

Rinse off with warm water and pat dry.


It can be used after derma roller treatment for better results try using this product 1-2 times a week.

For optimal results combine this product with Ammuri Hydro Boost Serum which offers a daily boost of Nourishment to skin repair in small doses and offers the same benefits as this product.

Hydroboost Hyaluronic Acid acne Face Mask X 2


Specifications:
Size: 30 ml.
Suitable for All Skin Types.
Hyaluronic Acid Acne Face Mask.
Retinol Silk Acne Face Mask Sheets.

Cautions:


Store in a dry and cool place, and avoid direct sun exposure.

For external use only. Avoid contact with eyes. keep out of reach of children.

Consumers are advised to check labelling, warnings, and directions provided with each product prior to use, especially if they have allergies or intolerances.

Remember to: We make every effort to ensure the information on this page is accurate at the time of the last edit and we constantly review and develop our products to meet our customer's needs.
#facemask #acne #skincare #skin #skinbeauty #ammuri #hyaluronicacid #skinrepair #hydroboost #skinfacemask #acnefacemask #acnemask #antiageing #facewrinkles #skintightens #moisturises #skinmoisturises
At Ammuri, we are committed to providing high-quality skincare products that meet your needs and expectations. We stand behind our products and want you to be completely satisfied with your purchase. That's why we offer a hassle-free 30-Day Return Policy.
If for any reason you are not satisfied with your purchase, please contact us within 30 days of receiving your order, and we will be happy to assist you with a return or exchange. We want to ensure that you are able to use our products fully and see the results for yourself.
If you have any questions or concerns regarding our return policy, please don't hesitate to contact our customer service team. We're always here to help ensure that your Ammuri experience is nothing short of exceptional.
At Ammuri, we understand the importance of receiving your skincare products in a timely and efficient manner. That's why we offer fast and reliable shipping to all of our customers. For orders placed within the UK, we offer same-day dispatch, so you can expect to receive your order within 2 to 4 working days.
For international orders, we offer worldwide shipping with a delivery time of 10 to 16 working days. We strive to dispatch all orders on the same day, as long as the order is placed before 5 pm UK time.
Rest assured that your order will be carefully packaged and shipped using the most efficient and secure methods available. We take great care to ensure that your products arrive in pristine condition, ready for you to enjoy.
If you have any questions or concerns regarding shipping, please don't hesitate to reach out to our customer service team. We're always here to help and ensure that your Ammuri experience is nothing short of exceptional.